Posted by Mitch Haycock on 26th Oct 2023
The new Avatar 102 AIRON Drysuit takes drysuit design to the next level with its innovative features, modern styling, and exceptional comfort. As a premium drysuit pioneer, AIRON is setting the standard for both form and function in drysuit technology.
Modern, Breathable Fabric for Comfort
At the core of the Avatar 102 AIRON is its use of a 260 g/m2 Cordura Nylon Oxford fabric outer layer. This four-layer membrane material offers impressive vapor-permeability to prevent overheating while remaining completely waterproof. The top Oxford layer increases wear resistance without compromising on the breathability that divers demand.
Durability Where It Matters
Strategically reinforced panels at the knees, crotch, elbows, and buttocks ensure the AVATAR 102 AIRON can withstand even the most rugged dives. The front watertight plastic zipper includes a protective pleat to prevent damage from sand and debris.
Ergonomic Design Enhances Performance
An advanced 3D anatomical pattern eliminates restrictive cross-seams at the shoulders and crotch. The telescopic torso adjusts for customized fit above and below the waist. Together, these features provide unrestricted mobility and flexibility for diving.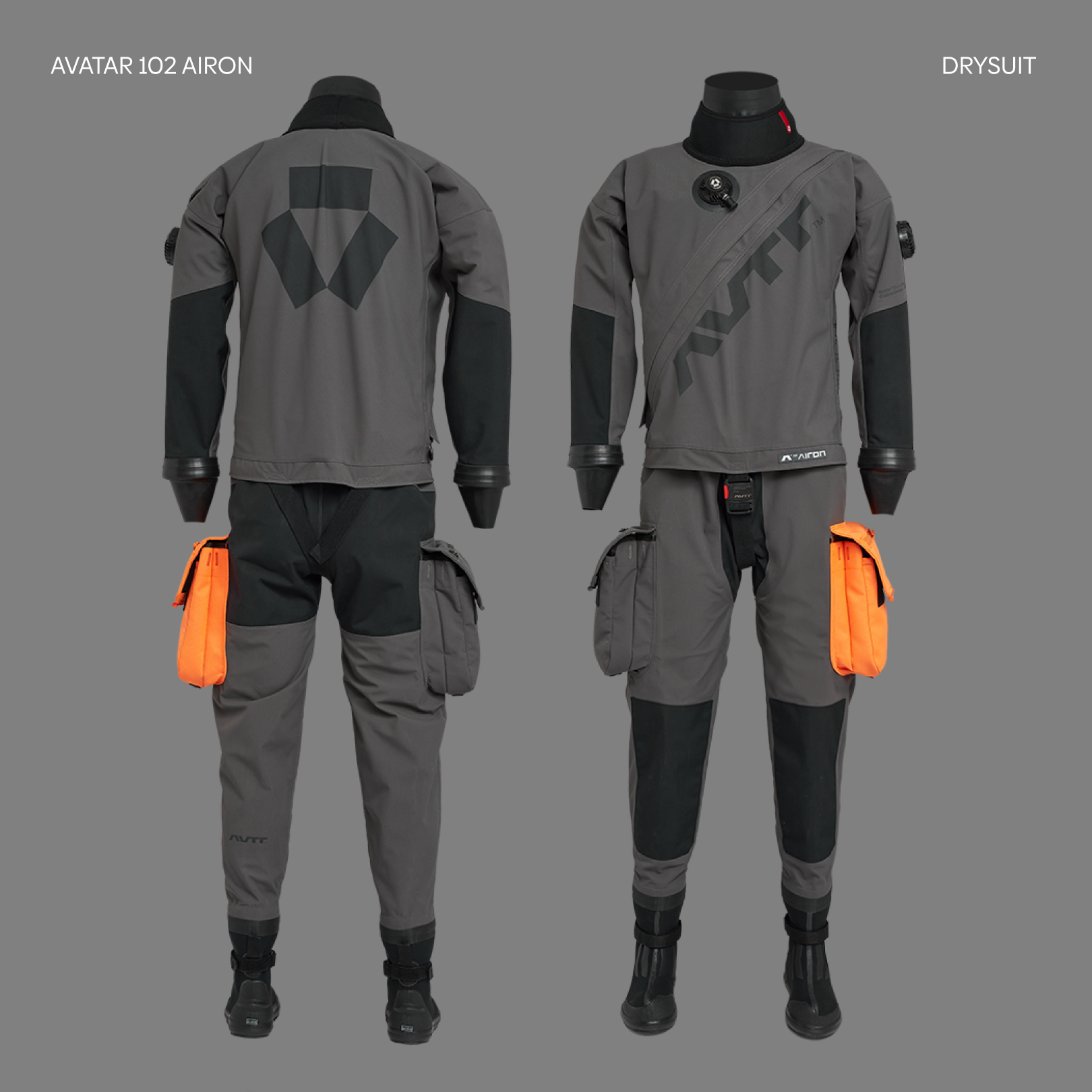 Key Features for Functionality
The Avatar 102 AIRON incorporates a range of functional details serious divers need:
Internal suspenders and crotch strap keep the suit secure.
Trilaminate reinforced pockets for accessories.
Distinctive orange left pocket for easy identification.
Compatible Smart Seals system for dry gloves.
Eye-Catching Style.
Unlike most drysuit models, the AIRON brings colour and style with its vibrant orange suspenders. The orange utility pocket also serves as a highly visible marker underwater. For those seeking both sophistication and utility in their gear, the Avatar delivers.
Superior Comfort and Durability Combined
With its innovative fabric, clever reinforced design, ergonomic pattern, and useful features, the Avatar 102 AIRON Drysuit provides the ultimate combination of comfort, durability, and functionality. Serious divers will appreciate this high-performing and stylish drysuit that takes the equipment to the next level.
The Avatar 102 AIRON represents a new generation of drysuits focused on both form and function. Its breathable, flexible, and reinforced construction provides comfort along with rugged durability. For divers who want it all, the Avatar is the clear choice in premium drysuits.
Price £1,615
Purchase here www.aquasportonline.com/avatar-102-airon-drysuit/